NOW OPEN MAY 2015
Be the first to discover the new lodge for Bass fishing El Palmar Lake Huites!
If you enjoy lake fishing and a quiet relaxing landscape you'll love this place.
Make advance reservations with an attractive discount
NOW OPEN BOOK NOW


Welcome to Bass fishing El Palmar Lake Huites.


You'll be hosted by founder Humberto Paredes to be treated as a friend. Trustable and experienced guides are available to assist you and your companions for the best experience possible.


This beautiful rustic resort is located just 200 meters (220 yards) close to a new paved road
under construction by the government. The government's project includes a big bridge to connect Sinaloa and Chihuahua. This location is just a 150 kilometers (93 miles) drive from Los Mochis, Sinaloa. This area is an agricultural family oriented peaceful area. Most of the neighbors are family. Our guides have an excellent knowledge of this deep lake to take you to the key sites concentrating the best Bass population.


Typic DAY
- Breakfast to enjoy a peaceful fishing morning.
- Snacks to go (option
- Return to lunch.
- Dinner at El Palmar Lake Huites with regional recipes (Optional)




Weather
Cool in the morning
Fishing Season:
Starts from October through June. Although the lake offers excellent fishing on a year-round
Capacity:
20 Anglers.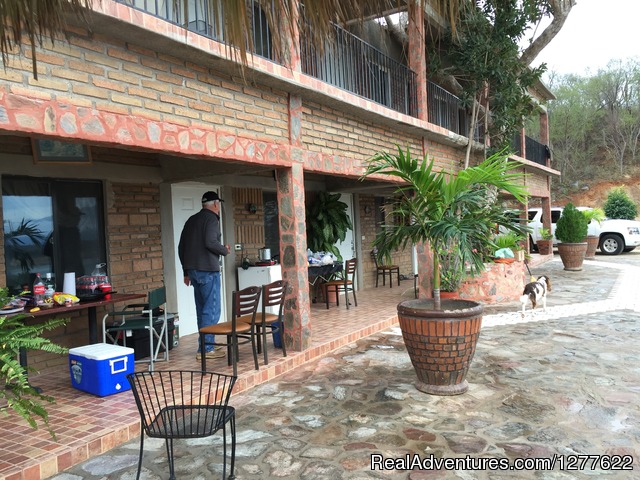 Sleeping and Meals:
Meals:
We offer steaks, fish and an elaborated Mexican dinner along with frosty cold margaritas.

Accommodations:
Two anglers (or couple) will share a room complete with air conditioner, private bathroom and filtered water. We offer steaks, fish and an elaborate Mexican dinner along with frosty cold margaritas.
Policies & Restrictions
Not included in Lodge Package:
Any Airfare from USA or Mexico to El Palmar Lake Huites are not included.
Foundation Memberships are not considered.
Tips are not included which as example are $ 20.00 tips, gifts or items of a personal nature.
Rates
Package A:
$1,395.00 US dollars per person for 4 night/3 day Plus international airfare to Los Mochis, Sinaloa, Mexico. Returning Saturday to Los Mochis.
Package B:
$1,495.00 US dollars per person for 5 night/ 4 day arriving on Wednesday at 1:30 pm to Los Mochis, Sinaloa, Mexico.
Package C:
$1,695.00 US dollars per person for 7 night/6 day arriving on Tuesday to Los Mochis, Sinaloa, Mexico.

Deposit Amount
$600.00 US dollars per angler. Bookings are not confirmed until deposits are received. Final payments are due 30 days prior to your arrival to Bass Fishing El Palmar Lake Huites.

El Palmar Lake Huites Lodge Trip Duration (including travel days):
4 nights/ 3 days fishing or 5 nights/ 4 days fishing or 7 nights/6 days fishing*
*Longer fishing packages are available upon request.
Upon arrival in Los Mochis, Sinaloa, Mexico anglers will then be greeted and transported from the Airport for a 2 hour ride to the lodge.
AIRLINES SERVING LOS MOCHIS
VOLARIS FROM LOS ANGELES TO LOS MOCHIS
VOLARIS FROM DALLAS OR HOUSTON TO TIJUANA AND THEN TO LOS MOCHIS
AEROMEXICO FROM HOUSTON, SAN ANTONIO,SAN DIEGO
Private charters can be arranged upon request to El Fuerte, Sinaloa, Mexico, for small private planes, from several USA's cities.
Other Information
Typically, the early hours offer fantastic action. As the sun rises overhead, two anglers are paired with experienced guide. Local guides have been trained to operate boats with trolling fuel injection 50 HP, 60 HP, 90 HP motors.

Coming soon is a pedestrian bridge, under construction now, from Tijuana Airport to San Diego border offering a fast return to the US.


Read more: http://www.realadventures.com/listings/1277622_Bass-fishing-el-palmar-lake-huites#ixzz34zxNzNb8
Photo Gallery: Homepage
The image gallery is empty.